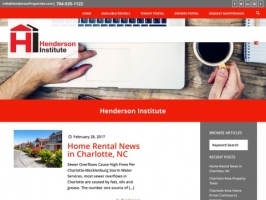 Henderson Properties Realtors is a leading real estate agency with multiple offices throughout the Charlotte, NC region. Stay up to date with current market conditions, as well as get useful tips and tricks when it comes to property ownership.
---
Address:

919 Norland Road, Charlotte, North Carolina 28205, United States

GPS:

Telephone:

704-535-1122

Company Name:

Henderson Properties, Inc.

Hours of Operations:

Monday – Friday: 8:30am – 5:30pm (9:30am – 5:30pm the first Friday of each month)

Web:
---

---
Directory last updated Oct 22, 2017.
©1996-2016 Family Friendly Sites.
All rights reserved.
Family Friendly Site and Family Friendly Sites and their emblems are trademarks of FamilyFriendlySites.com