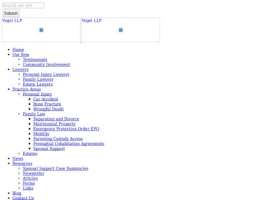 Vogel LLP is a boutique law firm in Calgary, Alberta serving cases relating to Personal Injury, Car Accident, Bone Fracture and Wrongful Death.
---
Web:

Address:

1050 - 10201 Southport Road SW
Calgary, Alberta T2W 4X9
Canada

Telephone:

(403) 255-2636

Company Name:

Vogel LLP

GPS:

Social Share:




---

---
Directory last updated Mar 15, 2018.
©1996-2016 Family Friendly Sites.
All rights reserved.
Family Friendly Site and Family Friendly Sites and their emblems are trademarks of FamilyFriendlySites.com